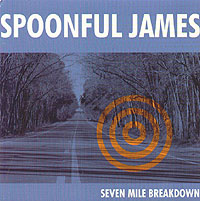 TRACKS:
Seven Mile Breakdown
It's All Gonna Pass
Take it off Him, Put it on Me
Too Many Things
Too Late
Closing In
Ain't No Way
Big Legged Woman
That's it for Now
On The Ground
Nothing On My Baby

Spoonful James. . .Seven Mile Breakdown

Spoonful James captures that true soul searching essence of the blues. With special guests BUDDY MILES, BONNIE BRAMLETT, and MORE. . .

"A roots-rock trio...citing influences from Freddie King and Stevie Ray Vaughan to the Allman Brothers..." -- Birmingham's Black and White

"Spoonful James is an original hard-driving southern rock band...The band is definitely worth catching...Seven Mile Breakdown is a winner and worthy breakthrough effort for this fine band." -- Musician's Realm
"Some bawdy blues and an affinity for country add up tot his mature, impeccably focused and exhilarating album...Spoonful James could easily be hurled into the nation's limelight on the strength of thier magnificent Seven Mile Breakdown." -- Hittin' the Note