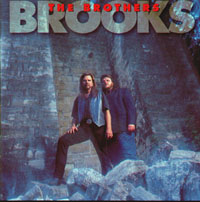 TRACKS:
Leaving You this Morning
You Ain't Listening
Stand Still
Primitive
All I've Got Left is the Blues
Putting Out the Fire
Straighten Up and Fly Right
Made from Scratch
Peaches are Sweeter
No Cover Charges

THE BROTHERS BROOKS

We made a special purchase of this out-of-print underground favorite! From Macon, GA's rich musical heritage. Sit back, relax, and let Tim and Gregg take you to a mystical place where "low down meets far out!"

Tim Brooks, winner of Guitar Player Magazine 20th Anniversary Player of the Year Award.
If you like THE ALLMAN BROTHERS, you'll love THE BROTHERS BROOKS!